Proposing original cosmetics
Entrust us with the development of original raw ingredients to the creation of brand stories.
We propose skin care, hair care, body care, etc. that matches various concepts. Based on skin physiology, we support the production of high-quality cosmetics with high added value by developing prescriptions according to your needs and promptly responding with our abundant technology and know-how accumulated so far. We will always propose new information by collaborating with reliable partner company that we have build relationship until now regarding the materials such as bottles and packages. We are also able to work as an agent for purchasing the raw ingredients and materials and support the customers in flexible styles.
Technology
"Nano Technology"
Nanotechnology
We have installed large high emulsification system that is rare within Japan in 2003 ahead of time and accumulated many formulation experiences and know-hows. Experiences of Nano : From basic cosmetics such as lotion, cream, serum to haircare such as shampoo, treatment and hair mist. We are able to propose by developing the nano capsule adapting to the product concept. Nano cosmetics has high permeation with smooth texture and able to actually feel the effect. Also by the fusion of organic cosmetics and nano technology, we will be able to plan & propose organic cosmetics with added functionality. Regarding the OEM with intermediate processed raw material, able to propose original nano capsule according to customer's needs adapting to wide variety of process.
"Aroma steam
distillation system"
Aroma steam
Possible to develop your original cosmetic raw ingredients. We can extract the aroma water or essential oil which supplies the best use of the original scent of the plants the odor of material itself by steam distillation of plants such as fruits and herbs by blending it in cosmetics prescriptions. It is possible to propose products with a high story such as regional and organic cosmetics. Indication of INCI for distilled water will be "~fruit water", "~leaf water", "~flower water". Therefore by replacing the water to distilled water which will be the base of the formulation, it will be effective to develop "Cosmetics without containing ordinary water".
"Vacuum
freeze-dry system"
Vacuum lyophilization
Freeze dry was developed in the field of emergency medical field and is a technology expanding it's usage to space food. Possible to store for a long term without using the preservatives by suppressing the action of enzymes & microorganisms and maintain the ingredient, color and odor by freeze drying the materials beforehand. Also, ingredients that may deteriorate in quality or crops that can be harvested only at certain times can be stored for a long time with high quality. Therefore it is possible to develop cosmetics products that can be sold stability that were sold for a limited time throughout the year. Freeze dry is a multi preservation technology able to instantly restore by water or lukewarm water every time mixing. Please feel free to contact us regarding the development of freeze dry cosmetics such as collagen and vitamin derivatives
Proposing the organic cosmetics
Organic cosmetics with storyline & functionality
Organic market is on the rise. Our company has acquired ECOCERT certification that is French organic certification in 2010. Simultaneously developed the domestically produced fruits and herbal aroma water internally and acquired ECOCERT certification.
We will support to develop the organic cosmetics with high storyline, cost performance and high added values by selecting from the lineup of our original domestically produced aroma water when developing the organic certified products. We have the certified experience of "ECOCERT"・"BDIH"・"NATRUE" in each organization.
Proposing the customized cosmetics
OEM corresponding to the startup of the product under
small production numbers.
"Customized cosmetics" will be able to flexibly correspond and propose to small production numbers such as "not losing the releasing timing, want to make into product as soon as possible". Possible to deliver under 500 pieces with shortest delivery date of one month using formulations & bottles that has completed various tests. It is highly recommendable for companies considering cosmetics startups from different industries , and owners considering original cosmetics for the beauty salon and to companies considering test marketing of new products.
Other manufacturing facilities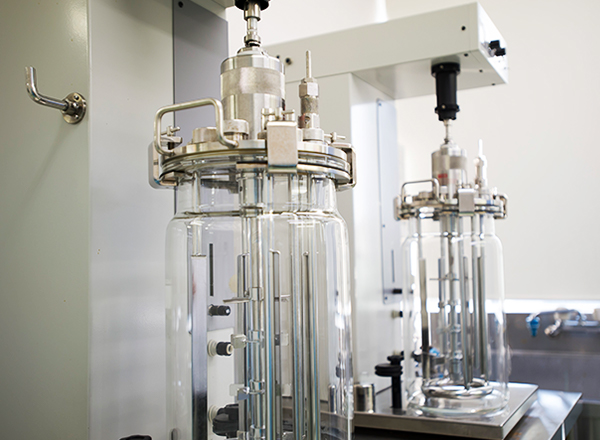 Fermenter
A device used for large quantity culturation of microorganisms by controlling the culturing conditions and the active ingredients of various microorganisms on the skin are extracted to the maximum. We will propose cosmetic OEM containing various cultured extract ingredients with evidence.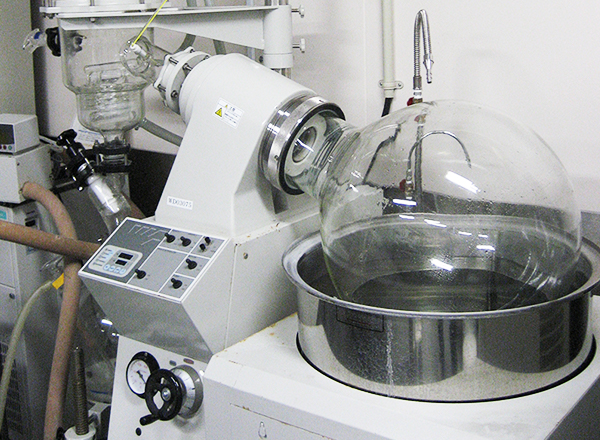 Evaporator
A device used to concentrate the essence efficiently without losing the effectiveness by eliminating the unnecessary solvent by low temperature process. The concentrated ingredients by processing technology enables to extract the potential to the maximum level by small amount of cosmetic additives. Please consult with us for OEM proposition that contains concentrated deep sea water with evidence and development of customer's original ingredients.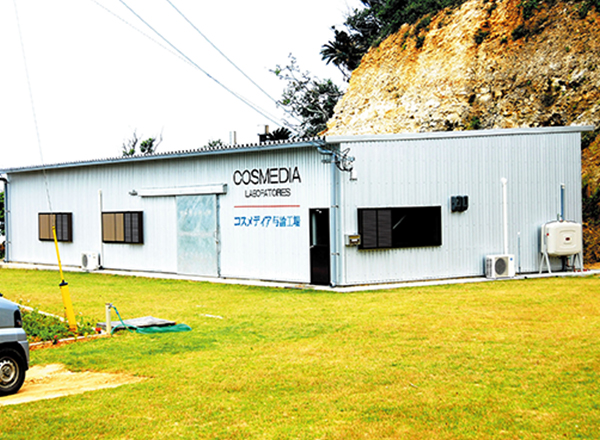 Yoron island factory
Extraction of deep sea water and process of raw ingredients are being conducted inside the Yoron island factory situated in the utmost southern part of Kagoshima prefecture and we are putting all of our efforts every day into development of new raw ingredients by focusing on the effectiveness of deep sea water to the skin. We will propose cosmetic OEM containing marine derived aging care ingredients with various proven evidences.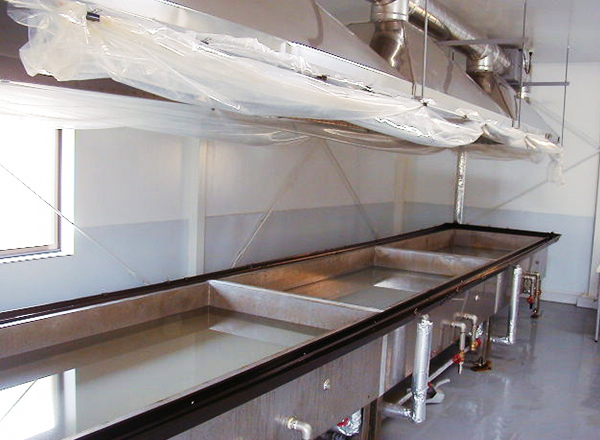 Brine using flat kettle

(Facility for salt production)
Facility for producing salt including calcium, magnesium, potassium and other subtle minerals using traditional brining kettle by extracting the deep sea ocean water offshore of Yoron island. Proposing according to your request such as sales of salt to consigned OEM production and OEM contained in cosmetics as ingredients.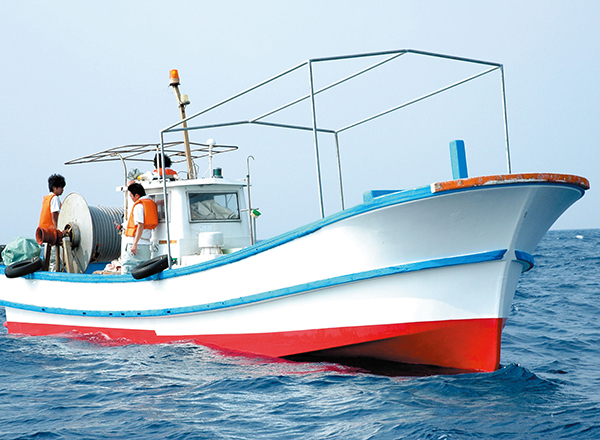 Water intake boat
We will extract deep sea water from the offshore of Yoron island by our boat and pump up for the new effective ingredients that has still not been found yet.